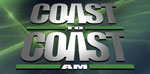 Radio Show: Coast to Coast September 20th
George Knapp was joined in the first half of the program by author and PR expert Maggie Jessup, who shared her insights on personal branding and how to become famous. Jessup said her firm receives inquiries every day from people who want to be famous, some with no apparent talents and others who want to become a brand in order to get to the top of their respective fields. So how does one stand...

More

Radio Show: CJOB: The Night Hawk June 2nd
Geoff Currier talks with the co-author of a new book, Fame 101, about how to become famous in your own line of work.

More

Talk Show: CKTB News Talk 610 June 1st
Larry Fedoruk talks with the co-author of a new book, Fame 101, about how to become famous in your own line of work.

More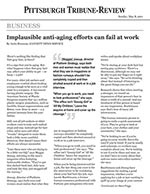 Publication: Pittsburgh Tribune-Review May 8th
There's nothing like finding that first gray hair, is there?
It's a sign that you're aging. But what happens when that gray hair may affect your ability to get -- or keep -- a job?
For many older job seekers and employees worried about looking young enough to be seen as a vital asset to a company, it has meant having plastic surgery. The American Society of Plastic Surgeons...

More
Radio Show: AM790 Positive Business March 11th
Jay Jessup joined host Patricia Raskin to talk about his book FAME 101 and to share ideas about how people and companies can use his branding and publicity strategies to join the leading one percent of every field. Raskin's show features notable guests including Jack Canfield, Jane Seymour, Dr. Oz and other cultural icons with messages and advice for living a positive life.

More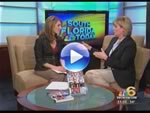 Interview: South Florida Today December 7th
Have you always wanted to build a brand a make a name for yourself? Well, this segment is for you. Maggie Jessup, author of Fame 101 joins us to share some strategies how you can quickly rise to the top like most celebrities...

More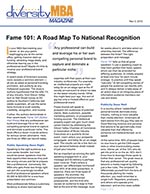 Publication: Diversity MBA Magazine November 3rd
Is your MBA fast-tracking your career, or are your peers leapfrogging you to the corner office, getting massive start-up funding, attracting mega-deals, and otherwise leaving you in the professional dust? Maybe it's time to revamp your professional brand strategy.
A recent study of America's success icons reveals a common element - all are as adept at personal branding, promotion,...

More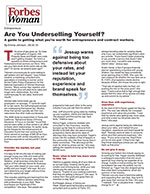 A guide to getting what you're worth for entrepreneurs and contract workers.
Forbes.com August 30th
The price of gas goes up. So does a half-gallon of organic milk. Property taxes and health care costs aren't getting cheaper. So here's a question to all the entrepreneurs and freelance/contract workers out there: Why are your fees stuck at the same rate as last year? Or worse--as several years ago?
"Women unconsciously tie price setting to self esteem and self respect," says...

More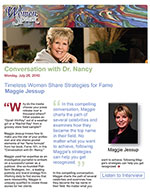 Interview: Womenspeak.com July 26th
Why do the media choose your press release over a thousand others? What creates an "Oprah Winfrey" out of a weather girl or a "Rachel Ray" from a grocery store food sampler?
Maggie Jessup knows how to make you the star of your profession and she shares pivotal elements of her "fame formula" from her book, Fame 101, in this "Conversation with Dr. Nancy."
Maggie used her expertise as an...

More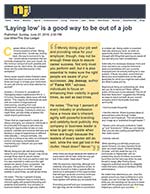 New Jersey Business June 27th
Celeste White of Devlin Communications writes: "Being recently fired, I would say, looking back, the way to survive is to lay low. I would advise employees that are currently employed to, shut your mouth, do the minimum amount of work possible and whatever you do, don't shine. Be wallpaper, those are the ones that survive in the workplace."
Some career experts share Celeste's basic...

More